CPD-Accredited Webinar | Genetic Neuropathies
March 2 @ 17:00

-

18:00

EST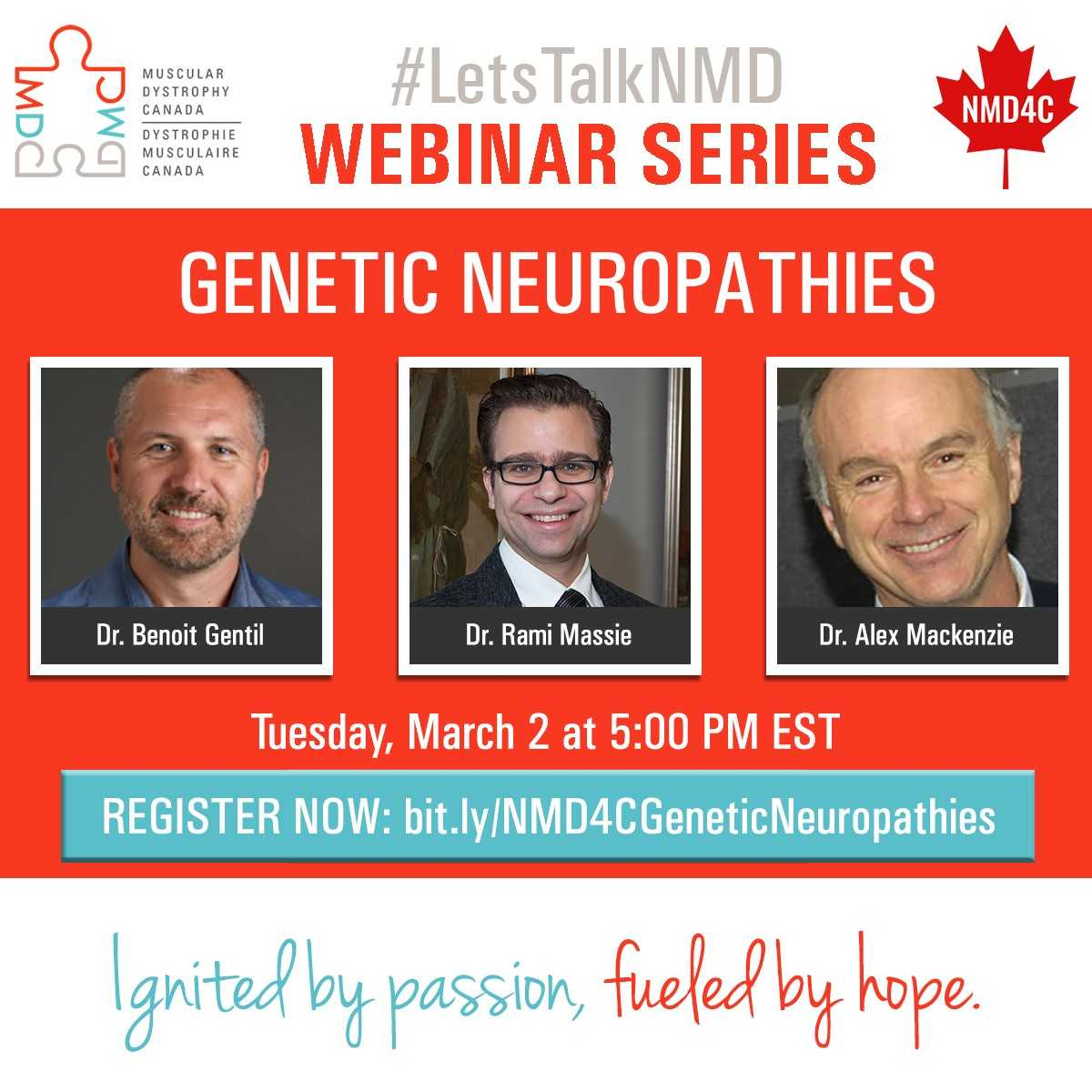 Muscular Dystrophy Canada (MDC) and the Neuromuscular Disease Network for Canada (NMD4C) are pleased to invite you to a webinar on genetic neuropathies.
This webinar is primarily targeted at Canadian clinicians, academics and trainees with an interest in neuromuscular disease.
AGENDA & SPEAKERS:
1. Dr. Benoit Gentil: Introduction to genes and molecular functions affected in axonal inherited peripheral neuropathies
2. Dr. Rami Massie: Genetic demyelinating neuropathies. Differential diagnosis, clinical presentation and management
3. Dr. Alex Mackenzie: Riboflavin Transport Deficiencies; Molecular Nosology, Outstanding Questions and Therapeutic Approaches
LEARNING OBJECTIVES:
(1) Review of the genetic causes affecting axonal neuropathies
(2) Discuss complexity of the phenotype
(3) Review different genetic causes of demyelinating neuropathies
(4) Discuss clinical presentation and management of demyelinating neuropathies
(5) Understand the molecular etiology of the conditions, as well the therapeutic avenues and some of the abiding mysteries
NMD4C and MDC are providing organisational and technical support, and this is an independent clinical/academic webinar with no industry sponsorship.
The NMD Rounds & Educational Webinars is a self-approved group learning activity (Section 1) as defined by the Maintenance of Certification Program of the Royal College of Physicians and Surgeons of Canada.