CPD-Accredited Webinar | Neuromuscular Mystery Case Rounds
2021-02-02 @ 17:00

-

18:00

EST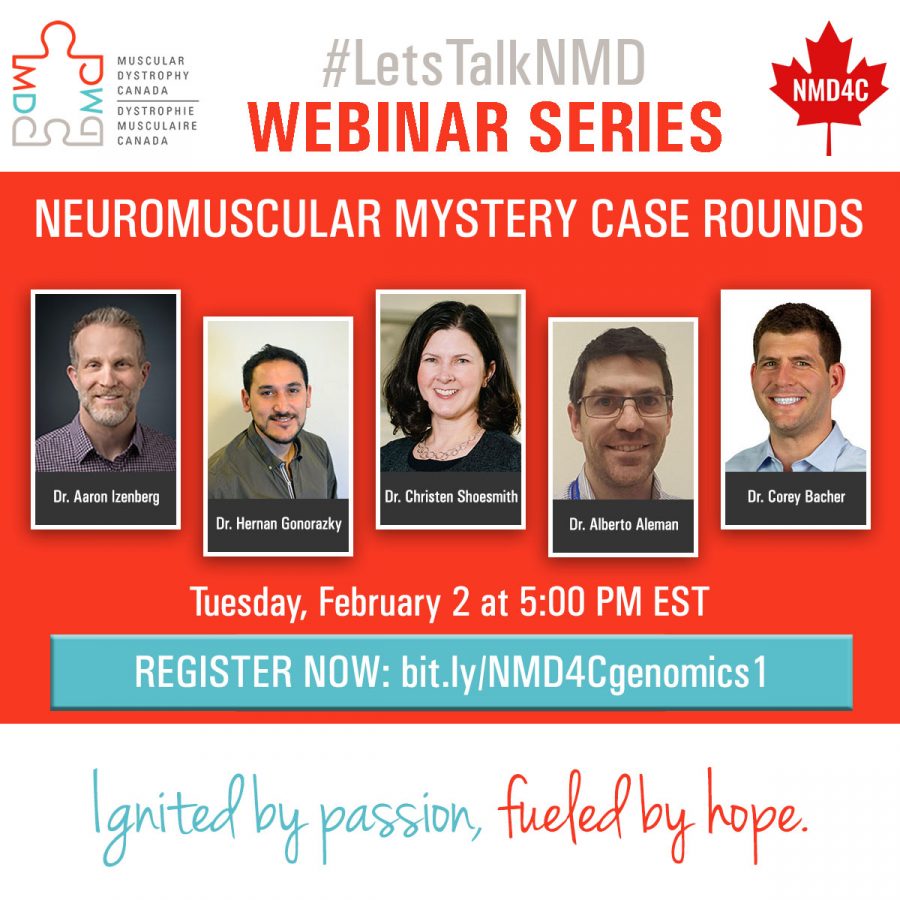 Muscular Dystrophy Canada (MDC) and the Neuromuscular Disease Network for Canada (NMD4C) are pleased to invite you to Neuromuscular Mystery Case Rounds.
This cased-based rounds webinar is for Canadian clinicians, academics and trainees with an interest in neuromuscular disease.
AGENDA
Speakers:
Dr. Alberto Aleman: Ophthalmoplegia and generalize atrophy in a child
Dr. Corey Bacher: More than meets the thighs
Moderators:
Dr. Aaron Izenberg
Dr. Christen Shoesmith
Dr. Hernan Gonorazky
Objectives:
• To use case method modality using real data for learning centered experience
• Describe clinical cases, discuss differential diagnosis, prognosis and treatment
• Understand the pathophysiology behind each case
• Through examples, understand the collaboration between teams to manage complex cases
• Develop and enforce connections between different neuromuscular fellowship's programs across Canada
NMD4C and MDC are providing organizational and technical support, and this is an independent clinical/academic webinar with no industry sponsorship.
The NMD Rounds & Educational Webinars is a self-approved group learning activity (Section 1) as defined by the Maintenance of Certification Program of the Royal College of Physicians and Surgeons of Canada.