CPD-accredited webinar | Up and coming stars in NMD
2020-12-01 @ 17:00

-

18:30

EST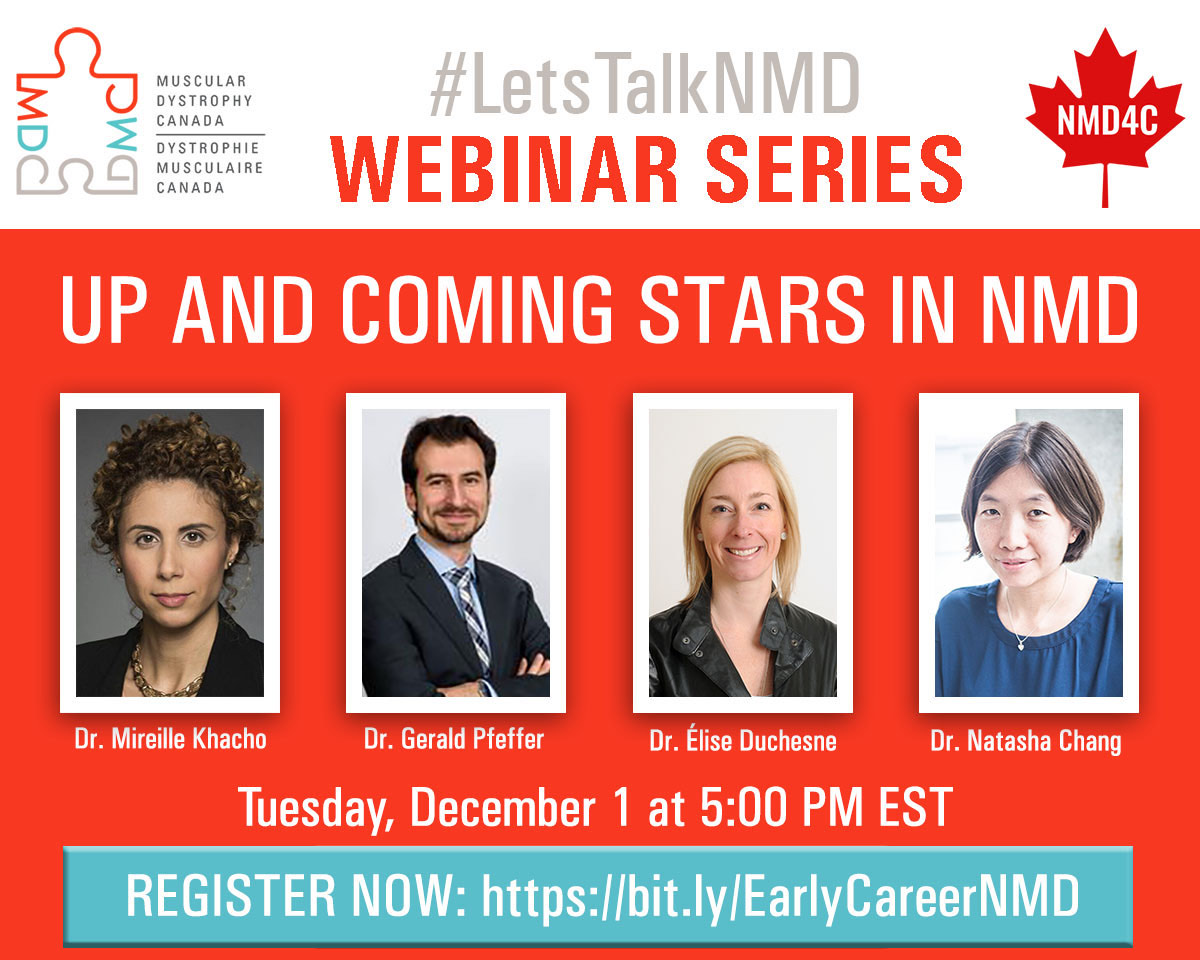 Muscular Dystrophy Canada (MDC) and the Neuromuscular Disease Network for Canada (NMD4C) are pleased to invite you to a webinar on up and coming stars in NMD.
This webinar is primarily targeted at Canadian clinicians, academics and trainees with an interest in neuromuscular disease.
NMD4C and MDC are providing organizational and technical support, and this is an independent clinical/academic webinar with no industry sponsorship.
The NMD Rounds & Educational Webinars is a self-approved group learning activity (Section 1) as defined by the Maintenance of Certification Program of the Royal College of Physicians and Surgeons of Canada.
Agenda
Chair: Dr. Natasha Chang
Format: 4 x 20 min presentations (including questions) from early-career researchers and clinicians describing their journey to achieving their present position and provide an overview of their research.
Speakers:
1. Dr. Mireille Khacho (University of Ottawa): Shape-changing mitochondria: New players in muscle stem cell regulation
2. Dr. Gerald Pfeffer (University of Calgary): Alternative approaches to diagnosis of neurogenetic diseases
3. Dr. Élise Duchesne (Université du Québec à Chicoutimi): The skeletal muscle under a multifaced perspective
4. Dr. Natasha Chang (McGill University): Muscle stem cells and their contribution to DMD
Learning Objectives:
1. Engage with early career investigators and learn how they obtained independent academic positions
2. Learn how early career investigators are tackling neuromuscular diseases
3. Opportunity to ask questions regarding their academic career paths or research programs