CPD-Accredited Webinar | OPMD: Clinical and Research Updates
April 6 @ 17:00

-

18:30

EDT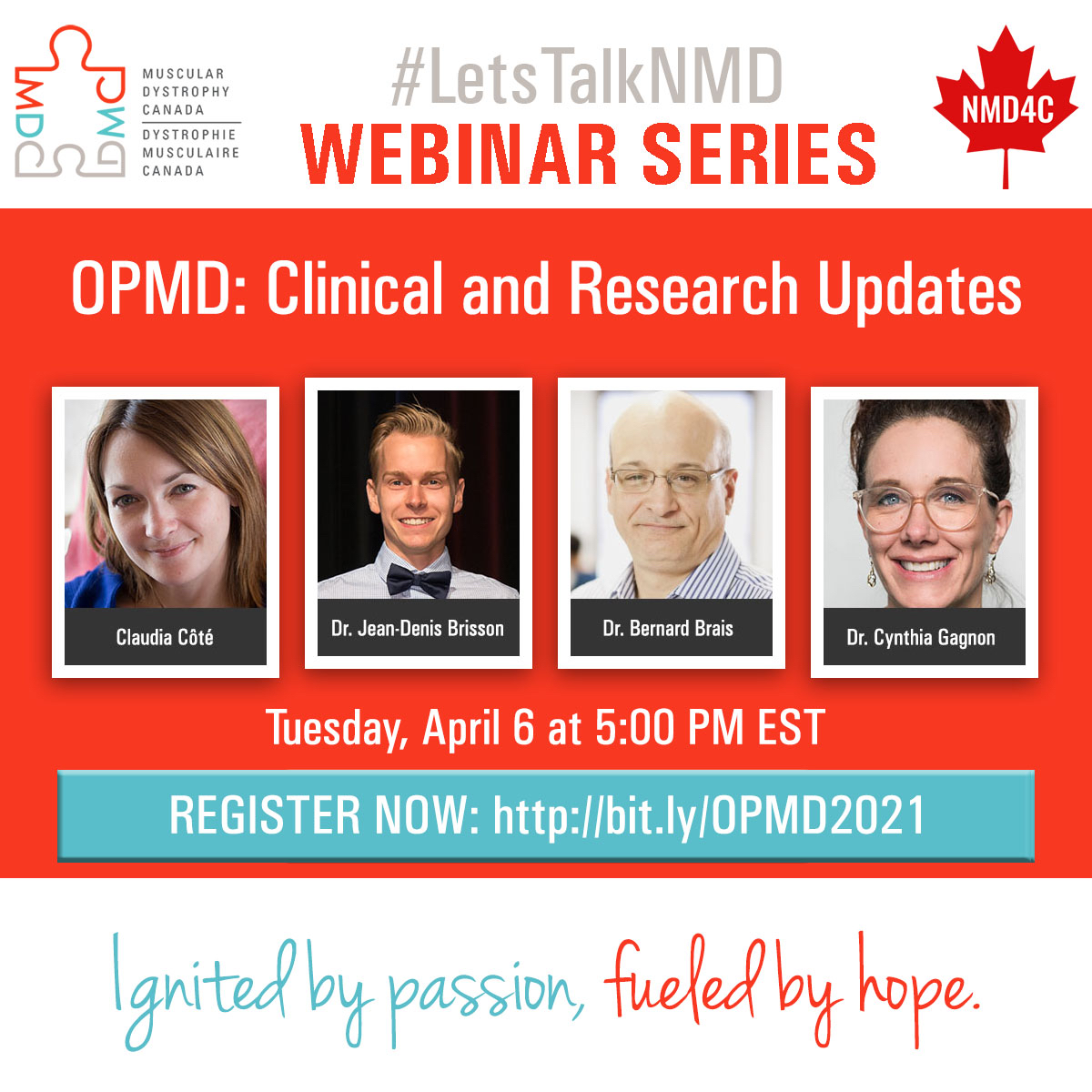 Muscular Dystrophy Canada (MDC) and the Neuromuscular Disease Network for Canada (NMD4C) are pleased to invite you to a webinar on OPMD: Clinical and Research Updates.
This webinar is primarily targeted at Canadian clinicians, academics and trainees with an interest in neuromuscular disease.
NMD4C and MDC are providing organisational and technical support. This is a clinical/academic webinar series supported by Sanofi-Genzyme; There is no involvement and influence from industry on program content.
The NMD Rounds & Educational Webinars is a self-approved group learning activity (Section 1) as defined by the Maintenance of Certification Program of the Royal College of Physicians and Surgeons of Canada.
Agenda:
Claudia Côté: Dysphagia in OPMD
Dr. Jean-Denis Brisson: Strength and mobility in OPMD
Dr. Bernard Brais: New OPMD scientific insights and treatments
Dr. Cynthia Gagnon: Research perspectives
Learning Objectives:
Knowing the particularities of dysphagia in OPMD
Asking the right questions for a better assessment
Describe the evolution of muscle weakness and motor activities in OPMD
Establish the impact of muscle weakness in subjects affected by OPMD
Review new insight on the pathophysiology of OPMD
Review new treatments development in OPMD
Identify the main signs and symptoms in OPMD and their progression
If you have any questions, please email <>