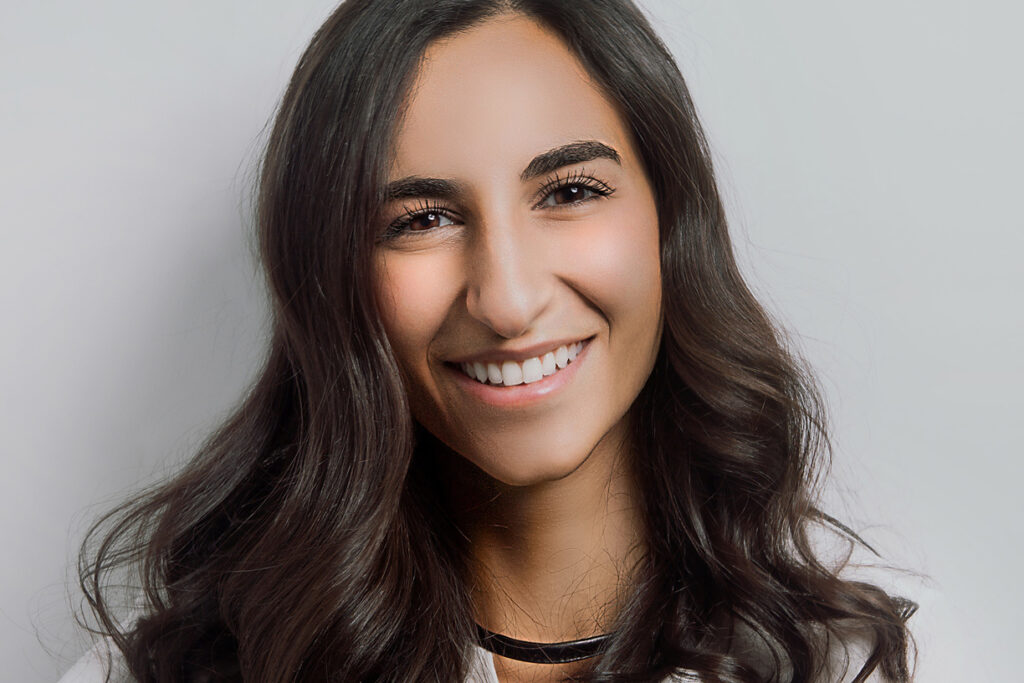 Knowledge Translation Coordinator
Master Student, Research Center of Charles-Le-Moyne-Saguenay-Lac-St-Jean sur les innovations en santé (CR-CSIS), University of Sherbrooke, Groupe de recherche interdisciplinaire sur les maladies neuromusculaires (GRIMN)
Occupational therapist, CIUSSS du Saguenay-Lac-Saint-Jean
NMD4C Working Group(s): Knowledge Translation
Email Samar
Samar Muslemani holds a Master's Degree in Occupational Therapy and has been practicing in Saguenay, Québec since 2018. She has recently completed a research Master's Degree in Health Sciences with the University of Sherbrooke with the aim of documenting the independence and social participation of adults living with childhood phenotype of myotonic dystrophy type 1 (DM1).
She received a bursary of the Fonds de recherche du Québec – Santé (FRQS), and has assessed patients both in Canada and France as part of her research project. Both in her research and clinical practice, she has worked with various neuromuscular diseases, such as recessive spastic ataxia of Charlevoix-Saguenay, oculopharyngeal muscular dystrophy and Charcot-Marie-Tooth diseases.
From the beginning of her studies Samar has been involved in knowledge transfer, notably with the conception of a practical guideline for occupational therapists to address sexuality with adults living with a neuromuscular disease. She aims to develop knowledge translation strategies in rare diseases for health care providers, patients, and their families to improve clinical care. She will begin her doctoral degree this Fall and her research project will focus on understanding the functional impact of cognitive impairments in people living with myotonic dystrophy type 1.
Within the NMD4C, Samar supports the Knowledge Translation team through developing knowledge and skills, defining barriers, and reducing the knowledge-to-action gap by developing various tools including clinical practice guidelines in the NMD field.
Recent Publications
Muslemani, S, Lessard, I, Lavoie, C, Côté, I, Brais, B, Mathieu, J et al.. Participation and Functional Independence in Adults With Recessive Spastic Ataxia of Charlevoix-Saguenay. Can J Occup Ther. 2022.89 (3)315-325 PMID:35469466
Muslemani, S, Gagnon, C, Gallais, B. Instrumental activities of daily living in adults with the DM1 childhood phenotype: going beyond motor impairments. Neuromuscul Disord. 2022.32 (4)313-320 PMID:35339341
Tremblay, M, Muslemani, S, Côté, I, Gagnon, C, Fortin, J, Gallais, B et al.. Accomplishment of instrumental activities of daily living and its relationship with cognitive functions in adults with myotonic dystrophy type 1 childhood phenotype: an exploratory study. BMC Psychol. 2021.9 (1)56 PMID:33865455
Muslemani S, Auger LP, Gagnon C. (2021). A guideline to support occupational therapists in addressing sexual difficulties in neuromuscular diseases: soon available in English! Occupational Therapy Now. 23(2): 11-12.
Muslemani S, Gagnon C. (2021). Présentation d'un guide de pratique sur les interventions de l'ergothérapeute en lien avec la sexualité et la vie amoureuse auprès de clients vivant avec une maladie neuromusculaire. ErgOThérapies. (80): 23-28.
Muslemani S*, Plourde A, Gagnon C. (2020). Les interventions ergothérapiques en contexte de réadaptation dans les maladies de Charcot-Marie-Tooth. ErgOThérapies. 76: 7-16.
See more on PubMed