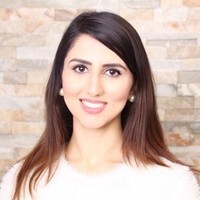 Dr. Homira Osman is the Director of Knowledge Translation & External Engagement at Muscular Dystrophy Canada. Homira completed an Honours B.Sc. in Neuroscience at the University of Toronto, followed by a clinical doctorate AuD from the University of Washington. She completed her clinical fellowship in audiology at Seattle Children's Hospital Department of Otolaryngology-Head & Neck Surgery & Childhood Communication Centre. She also completed her PhD at the University of Washington. In her predoctoral work, she focused on understanding the interplay of auditory and cognitive processes in speech perception. Homira investigated how children decode and process speech under conditions of auditory and cognitive challenge. Her dissertation work emphasized that the ear does not work in isolation from the rest of the brain; higher-order cognitive functions associated with memory, attention, and speed of processing serve an important role in understanding speech. Dr. Osman completed her post-doctoral fellowship in the Cochlear Implant Lab at The Hospital for Sick Children (Neurosciences & Mental Health) and the Collaborative Program in Neuroscience (University of Toronto). During that time, she was awarded the SickKids Centre for Brain & Mental Health Integrative Research Fellowship Award for 2017. She worked on projects defining adaptive and maladaptive types of plasticity arising from attention and vision in children with hearing loss and using cortical measures to evaluate cochlear implant and hearing aid device efficacy.
As a pediatric audiologist, Homira has worked with patients with neuromuscular disorders and those clinical interactions informed the need for evidence-based care and informational counseling. This led to her training in knowledge translation. Homira has completed the Pacific Science Communication Fellowship in Translational Medicine, TL1 Translational Research Training Program, Leadership Education in Neurodevelopmental & Related Disabilities Fellowship and the Scientist Knowledge Translation Training at the Hospital for Sick Children.
In her current role at Muscular Dystrophy Canada, Homira provides leadership to a broad range of initiatives set in motion to improve the understanding of neuromuscular disorders and ultimately improve the quality of life of children, adults and family members affected by neuromuscular disorders across Canada. She works closely with persons impacted by neuromuscular disorders, families, physicians, allied healthcare professionals, researchers, collaborators, academic and community partners to engage, learn and share in knowledge translation activities. She ensures that research learnings are shared in plain language and that evidence turns into action. As such, Homira also oversees the Change Agent portfolio where she engages with officials in the federal and provincial governments to represent the voices and experiences of people living with neuromuscular disorders. She works to advocate for policy changes that will have a meaningful impact on people living with neuromuscular disorders, such as fair and timely access to innovative medicines and therapies. Homira is responsible for analyzing the impact of public policy and regulations from government, health stakeholders, academia and overseeing the developing policy options and positions to influence health and neuromuscular disorders-related public policy. Homira is a strong proponent for the involvement of individuals personally impacted by NMDs for research and advocacy activities and believes lifting the patient voice and lived experiences will positively influence change in Canada.
James, AL, Osborn, HA, Osman, H, Papaioannou, V, Gordon, KA. The limitation of risk factors as a means of prognostication in auditory neuropathy spectrum disorder of perinatal onset. Int J Pediatr Otorhinolaryngol. 2020.135 110112 PMID:32502912
Osman, H, Sullivan, JR. An analysis of error patterns in children's backward digit recall in noise. Noise Health. .17 (77)191-7 PMID:26168949
Sullivan, JR, Osman, H, Schafer, EC. The Effect of Noise on the Relationship Between Auditory Working Memory and Comprehension in School-Age Children. J Speech Lang Hear Res. 2015.58 (3)1043-51 PMID:25769020
Osman, H, Sullivan, JR. Children's auditory working memory performance in degraded listening conditions. J Speech Lang Hear Res. 2014.57 (4)1503-11 PMID:24686855
See more on PubMed