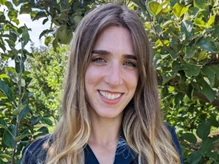 NMD4C Knowledge Translation Coordinator
Research Coordinator
Scleroderma Patient-centered Intervention Network (SPIN) | Lady Davis Institute for Medical Research, Jewish General Hospital
NMD4C Working Group(s): Knowledge Translation
Email Julia
Education and Experience
Julia graduated from McGill University in 2018 with a Master of Science in Biology with a concentration in Conservation, Ecology, Evolution and Behaviour. Her thesis focused on species distribution modelling of small mammal hosts of Lyme disease in North America. She then worked with the Canadian Task Force on Preventive Health Care (CTFPHC) as the administrator and research assistant from 2019-2021. She was the main liaison between the Task Force leadership, and collaborators at the Public Health Agency of Canada (PHAC) and the Evidence Review and Synthesis Centers. To facilitate and expedite the development of 6 national CPGs, she oversaw the stakeholder management for the review process of guideline documents, particularly in the recruitment of stakeholders (including disease specific organizations, federal and provincial organization, peer reviewers and clinical experts).
Scleroderma Patient-Centered Intervention Network
In early 2021, Julia joined the Scleroderma Patient-Centered Intervention Network (SPIN) as the clinical research coordinator. SPIN is a large multinational cohort with over 1400 patients with systemic sclerosis (scleroderma; a rare autoimmune rheumatic disease) from 47 centers in 7 countries. Julia coordinates all stages of SPIN's randomized controlled trials (RCTs), including the SPIN Self-Management (SPIN-SELF) trial, testing an online educational toolkit to help scleroderma patients develop self-management skills, to help them address their chronic physical and mental health symptoms.
NMD4C Role as Knowledge Translation Coordinator
Within the NMD4C, Julia will support the Knowledge Translation Working Group as the knowledge translation coordinator.
Recent Publications
Wojeck, RK, Knisely, MR, Bailey, DE, Somers, TJ, Kwakkenbos, L, Carrier, ME et al.. Patterns of patient-reported symptoms and association with sociodemographic and systemic sclerosis disease characteristics: a scleroderma Patient-centered Intervention Network (SPIN) Cohort cross-sectional study. EClinicalMedicine. 2023.62 102104 PMID:37533421
Xu, M, Harel, D, Carrier, ME, Kwakkenbos, L, Bartlett, SJ, Gottesman, K et al.. Differential Item Functioning on the Cochin Hand Function Scale among People with Systemic Sclerosis by Language, Sex, and Disease Subtype: a Scleroderma Patient-centered Intervention Network (SPIN) Cohort Study. Arthritis Care Res (Hoboken). 2023. PMID:37489073
Neyer, MA, Henry, RS, Carrier, ME, Kwakkenbos, L, Wojeck, RK, Gietzen, A et al.. Validity, Reliability, and Differential Item Functioning of English and French Versions of the 10-Item Connor-Davidson Resilience Scale in Systemic Sclerosis: A Scleroderma Patient-Centered Intervention Network Cohort Study. Arthritis Care Res (Hoboken). 2023. PMID:37128826
Henry, RS, Kwakkenbos, L, Carrier, ME, Patten, S, Bartlett, SJ, Mouthon, L et al.. Mental health symptoms in scleroderma during COVID-19: a Scleroderma Patient-centred Intervention Network (SPIN) cohort longitudinal study. Clin Exp Rheumatol. 2023.41 (8)1639-1643 PMID:37083160
S Rapoport, C, Choi, AK, Kwakkenbos, L, Carrier, ME, Henry, RS, Mouthon, L et al.. Evaluation of Measurement Properties and Differential Item Functioning in the English and French Versions of the University of California, Los Angeles, Loneliness Scale-6: A Scleroderma Patient-Centered Intervention Network (SPIN) Study. Arthritis Care Res (Hoboken). 2023.75 (10)2158-2165 PMID:36938696
Wurz, A, Duchek, D, Ellis, K, Bansal, M, Carrier, ME, Tao, L et al.. A qualitative interview study exploring the psychological health impacts of the SPIN-CHAT program among people with systemic sclerosis at the onset of COVID-19: perceptions of trial participants and research team members. Disabil Rehabil. 2023. 1-13 PMID:36708187
Kwakkenbos, L, Carrier, ME, Welling, J, Levis, B, Levis, AW, Sauve, M et al.. Randomized controlled trial of an internet-based self-guided hand exercise program to improve hand function in people with systemic sclerosis: the Scleroderma Patient-centered Intervention Network Hand Exercise Program (SPIN-HAND) trial. Trials. 2022.23 (1)994 PMID:36510233
Thombs, BD, Levis, B, Carrier, ME, Dyas, L, Nordlund, J, Tao, L et al.. Effects of a support group leader education program jointly developed by health professionals and patients on peer leader self-efficacy among leaders of scleroderma support groups: a two-arm parallel partially nested randomised controlled trial. Orphanet J Rare Dis. 2022.17 (1)396 PMID:36307891
Kwakkenbos, L, Østbø, N, Carrier, ME, Nielson, WR, Fedoruk, C, Levis, B et al.. Randomized feasibility trial of the Scleroderma Patient-centered Intervention Network Self-Management (SPIN-SELF) Program. Pilot Feasibility Stud. 2022.8 (1)45 PMID:35219340
Gordon, JK, Showalter, K, Wu, Y, Kwakkenbos, L, Carrier, ME, Henry, RS et al.. Systemic sclerosis and COVID-19 vaccines: a SPIN Cohort study. Lancet Rheumatol. 2022.4 (4)e243-e246 PMID:35072109
See more on PubMed