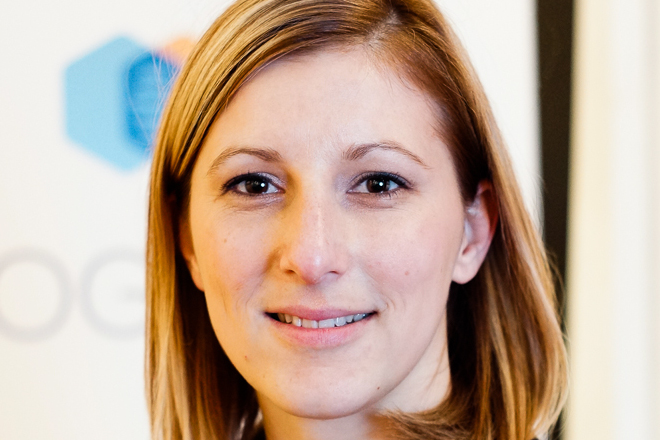 Assistant Professor, Department of Neuroscience at Université de Montreal
Researcher, CRCHUM
NMD4C Working Group(s): Pillar 1: Preclinical Science
Email Martine
Dr. Tetreault is an Assistant professor in the department of Neuroscience at Université de Montreal and a researcher at the CRCHUM since January 2018.  She completed her graduate studies in Molecular Biology at Université de Montreal under the supervision of Dr Bernard Brais (CIHR bursary). Her research was focusing on genetic characterization of neurological diseases in the French-Canadian population.
Martine has then pursued her training as a post-doctoral fellow in the Human Genetic program at McGill University under the supervision of Dr Jacek Majewski (CIHR fellowship), where she has broadened her expertise of genetic studies by developing bio-informatics skills. Martine was performing the exome and whole genome sequencing analysis as part of the Care for Rare consortium led by Dr Kym Boycott in Ottawa. During this time, she has also put in place collaborations with neurologists and pathologists in order to use RNA-sequencing to find genetic causes of unresolved myopathy patients.
As an independent researcher, Dr. Tetreault is aiming at combining multiple omic approaches to study the genetic etiology of neuromuscular and neurodegenerative diseases. As a young investigator, Dr. Tetreault has been very productive with more than 50 publication, some of which in high impact journals such as Nature, Brain and American Journal of Human Genetics.
She has received funding from the Fondation Courtois, National Ataxia Foundation, Fondation du Grand Defi Pierre Lavoie, Muscular Dystrophy Canada and recently a Canadian Foundation for Innovation grant to establish a translational platform to study rare neuromuscular diseases.  She has also received a FRQS Junior 1 salary award.
Recent Publications
Hamilton, LK, Moquin-Beaudry, G, Mangahas, CL, Pratesi, F, Aubin, M, Aumont, A et al.. Author Correction: Stearoyl-CoA Desaturase inhibition reverses immune, synaptic and cognitive impairments in an Alzheimer's disease mouse model. Nat Commun. 2023.14 (1)2674 PMID:37160868
Nguyen, E, Tétreault, M, Toffa, DH, Cossette, P, Samarut, É, Nguyen, DK et al.. Novel NALCN variant linked to temporal lobe epilepsy. Am J Med Genet A. 2023.191 (7)1942-1947 PMID:37046053
Pellerin, D, Danzi, MC, Wilke, C, Renaud, M, Fazal, S, Dicaire, MJ et al.. Deep Intronic FGF14 GAA Repeat Expansion in Late-Onset Cerebellar Ataxia. N Engl J Med. 2023.388 (2)128-141 PMID:36516086
Labarre, A, Guitard, E, Tossing, G, Forest, A, Bareke, E, Labrecque, M et al.. Fatty acids derived from the probiotic Lacticaseibacillus rhamnosus HA-114 suppress age-dependent neurodegeneration. Commun Biol. 2022.5 (1)1340 PMID:36477191
Mezreani, J, Audet, S, Martin, F, Charbonneau, J, Triassi, V, Bareke, E et al.. Novel homozygous nonsense mutation of MLIP and compensatory alternative splicing. NPJ Genom Med. 2022.7 (1)36 PMID:35672413
Li, J, Toffa, DH, Lefèbvre, M, Tétreault, M, Cossette, P, Samarut, É et al.. Usage of Genetic Panels in an Adult Epilepsy Clinic. Can J Neurol Sci. 2023.50 (3)411-417 PMID:35478072
Hamilton, LK, Moquin-Beaudry, G, Mangahas, CL, Pratesi, F, Aubin, M, Aumont, A et al.. Stearoyl-CoA Desaturase inhibition reverses immune, synaptic and cognitive impairments in an Alzheimer's disease mouse model. Nat Commun. 2022.13 (1)2061 PMID:35443751
Fournier, S, Dauvilliers, Y, Warby, SC, Labrecque, M, Zadra, A, Boucetta, S et al.. Does the adenosine deaminase (ADA) gene confer risk of sleepwalking?. J Sleep Res. 2022.31 (4)e13537 PMID:34913218
Brunet-Ratnasingham, E, Anand, SP, Gantner, P, Dyachenko, A, Moquin-Beaudry, G, Brassard, N et al.. Integrated immunovirological profiling validates plasma SARS-CoV-2 RNA as an early predictor of COVID-19 mortality. Sci Adv. 2021.7 (48)eabj5629 PMID:34826237
Labrecque, M, Touma, L, Bhérer, C, Duquette, A, Tétreault, M. Estimated prevalence of Niemann-Pick type C disease in Quebec. Sci Rep. 2021.11 (1)22621 PMID:34799641
See more on PubMed