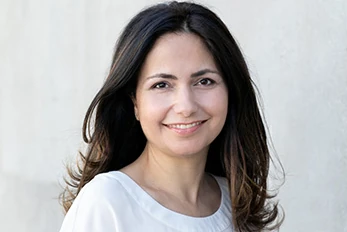 Investigator
Pediatric Neurologist, Neurophysiologist and Epidemiologist, Clinician Scientist and Director of Pediatric Neurology, Montreal Children's Hospital
Associate Professor, Departments of Pediatrics and Neurology and Neurosurgery, McGill University | Scientist, Research Institute of the McGill University Health Centre
NMD4C Working Group(s): Knowledge Translation
Email Maryam
Dr. Maryam Oskoui is a pediatric neurologist, neurophysiologist and epidemiologist. She is a Clinician Scientist and Director of Pediatric Neurology at the Montreal Children's Hospital. She is a Senior Clinical Research Scholar of the FRQ-S with a focus in clinical research and clinical trials in pediatric neuromuscular disorders and has contributed to over 100 peer reviewed publications. She is a Principal investigator and SMA lead for INFORM RARE, a Strategy for Patient Oriented Research innovative clinical trial initiative supported by CIHR.
Dr. Oskoui serves as an evidence-based methodologist for the American Academy of Neurology and has contributed to numerous clinical care guidelines. As part of NMD4C, she is developing clinical guidelines through the Knowledge Translation Team. She contributes to the Canadian Neuromuscular community by serving as a member of the Scientific Advisory Committee for Muscular Dystrophy Canada and chairing the Canadian Pediatric Neuromuscular Group and the Canadian Neuromuscular Disease Registry's Spinal Muscular Atrophy Working Group. She is a Board member for the Association des Neurologues du Quebec.
Dr. Oskoui completed her medical school and pediatric neurology residency at McGill University (Montreal, Canada), neuromuscular clinical and research fellowship at Columbia University (New York, USA) and Master's of Science in Clinical Epidemiology at McGill University.
Recent Publications
Razaz, N, Cnattingius, S, Lisonkova, S, Nematollahi, S, Oskoui, M, Joseph, KS et al.. Pre-pregnancy and pregnancy disorders, pre-term birth and the risk of cerebral palsy: a population-based study. Int J Epidemiol. 2023. PMID:37494957
Boudjani, H, Fadda, G, Dufort, G, Antel, J, Giacomini, P, Levesque-Roy, M et al.. Clinical course, imaging, and pathological features of 45 adult and pediatric cases of myelin oligodendrocyte glycoprotein antibody-associated disease. Mult Scler Relat Disord. 2023.76 104787 PMID:37320939
Wolfson, C, Gauvin, DE, Ishola, F, Oskoui, M. Global Prevalence and Incidence of Amyotrophic Lateral Sclerosis: A Systematic Review. Neurology. 2023.101 (6)e613-e623 PMID:37308302
Allen, NM, O'Rahelly, M, Eymard, B, Chouchane, M, Hahn, A, Kearns, G et al.. The emerging spectrum of foetal acetylcholine receptor antibody-associated disorders (FARAD). Brain. 2023. PMID:37186601
Krause, KR, Tay, J, Douglas, WA, Sammy, A, Baba, A, Goren, K et al.. Paper II: thematic framework analysis of registry-based randomized controlled trials provided insights for designing trial ready registries. J Clin Epidemiol. 2023.159 330-343 PMID:37146660
See more on PubMed