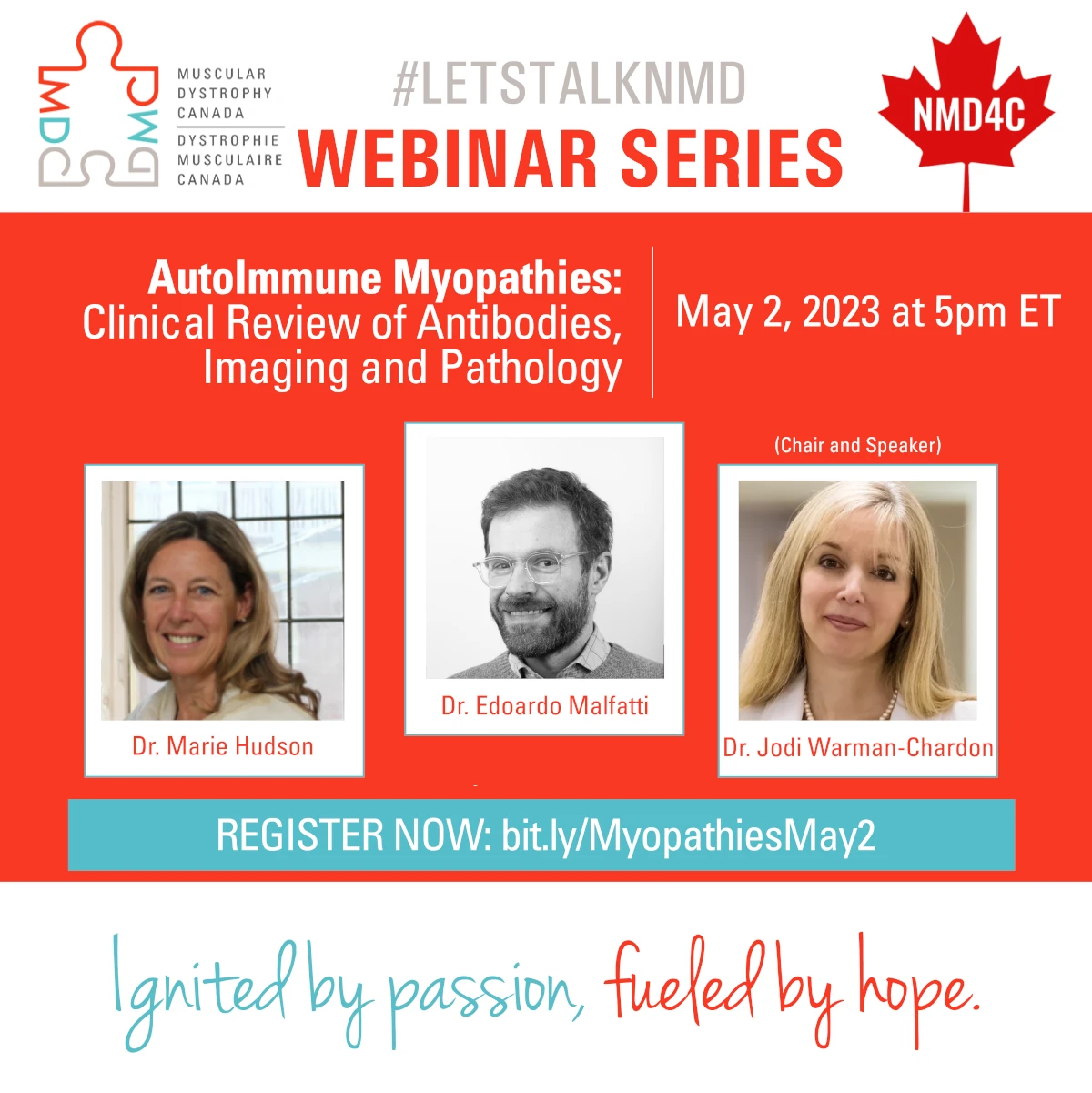 Date
May 02 2023
Expired!
CPD-Accredited Webinar | AutoImmune myopathies: Clinical review of antibodies, imaging and pathology
NMD4C together with Muscular Dystrophy Canada (MDC) are pleased to invite you to a webinar on updates in Inflammatory Myopathies. This webinar is primarily targeted at Canadian clinicians, academics, and trainees with an interest in neuromuscular disease.
Chair:
Dr Jodi Warman-Chardon, Associate Scientist, Neuroscience Program, Ottawa Hospital Research Institute | Associate Scientist, Clinical Epidemiology, Ottawa Hospital Research Institute | Clinician Scientist, Neurology, The Ottawa Hospital | Associate Professor, Faculty of Medicine, University of Ottawa | Director, Centre for Neuromuscular Disease, Faculty of Medicine, University of Ottawa
Speakers & Agenda:
Interpretation of autoantibodies in Inflammatory myopathies
Dr Marie Hudson, Rheumatologist, Division of rheumatology and Department of Medicine, Jewish General Hospital and McGill University | Senior investigator, Lady Davis Institute | Co-director (Immunity), McGill Interdisciplinary Initiative in Infection and Immunity
MR Imaging in Autoimmune Myopathies

Myopathology of Inflammatory myopathies
Dr Edoardo Malfatti, Professor, Université Paris-Est Créteil Val de Marne | APHP, Centre de Référence de Pathologie Neuromusculaire Nord-Est-Ile-de-France, Henri Mondor Hospital
Learning Objectives:
1) Discuss Interpretation of Antibodies in Autoimmune Myopathies
2) Highlight novel features in muscle MR Imaging in Autoimmune Myopathies
3) Review the Myopathology of AutoImmune myopathies
NMD4C and MDC are providing organizational and technical support. There is no involvement and influence from industry. The NMD Rounds & Educational Webinars is a self-approved group learning activity (Section 1) as defined by the Maintenance of Certification Program of the Royal College of Physicians and Surgeons of Canada.
If you have any questions, please email network manager Erin Beattie at <>.