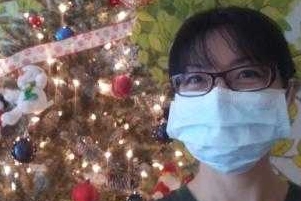 Working Group Member
Pediatric Neurologist, CHU Sainte-Justine, Université de Montréal
Medical Director of the Neuromuscular clinic, Marie Enfant Rehabilitation Centre of CHU Sainte-Justine
NMD4C Working Group(s): Early-Career Working Group
Dr. Cam-Tu Nguyen is a pediatric neurologist specialized in neuromuscular disorders at CHU Sainte-Justine in Montreal. Dr. Nguyen is the medical director of the Neuromuscular clinic at Marie Enfant Rehabilitation Centre of CHU Sainte-Justine. Dr. Nguyen completed a fellowship in EMG and neuromuscular disorders at McGill University, the London Health Sciences Centre under Dr. Craig Campbell's supervision, and The Hospital for Sick Children (SickKids).
Dr. Nguyen received an EMG Diploma from the Canadian Society of Clinical Neurophysiologists (CSCN), and was the recipient of the CSCN Fellowship in Neuromuscular Medicine & Electromyography in 2015.
Dr. Nguyen is an early-career member of the NMD4C, and sits on the early-career working group.
Watch Dr. Nguyen's feature in Radio-Canada Découvert's 'Thérapie à 2,8 millions $' on the topic of Zolgensma and Spinal muscular atrophy in Quebec. This recording is available in French.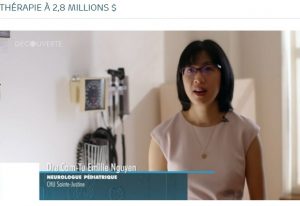 Recent Publications
Ederer, IA, Spennato, S, Nguyen, CT, Wehle, A, Wachtel, C, Kiehlmann, M et al.. A Single-Center 10-Year Experience of 180 Transmasculine Patients Undergoing Gender-Affirming Mastectomy While Continuing Masculinizing Hormone Replacement Therapy. Aesthetic Plast Surg. 2022. PMID:36510021
Bich, TA, Vuong, NL, Cam Tu, NCHTN, Truong, TM, Trung, LV. Long-Term Survival of Patients After Total Pharyngolaryngoesophagectomy With Gastric Pull-Up Reconstruction for Hypopharyngeal or Laryngeal Cancer Invading Cervical Esophagus. Ann Otol Rhinol Laryngol. 2022. 34894221098802 PMID:35656819
Derksen, A, Shih, HY, Forget, D, Darbelli, L, Tran, LT, Poitras, C et al.. Variants in LSM7 impair LSM complexes assembly, neurodevelopment in zebrafish and may be associated with an ultra-rare neurological disease. HGG Adv. 2021.2 (3)100034 PMID:35047835
Amir Yazdani, P, St-Jean, ML, Matovic, S, Spahr, A, Tran, LT, Boucher, RM et al.. Experience of Parents of Children with Genetically Determined Leukoencephalopathies Regarding the Adapted Health Care Services During the COVID-19 Pandemic. J Child Neurol. 2022.37 (4)237-245 PMID:34986037
Finkel, RS, McDonald, CM, Lee Sweeney, H, Finanger, E, Neil Knierbein, E, Wagner, KR et al.. A Randomized, Double-Blind, Placebo-Controlled, Global Phase 3 Study of Edasalonexent in Pediatric Patients with Duchenne Muscular Dystrophy: Results of the PolarisDMD Trial. J Neuromuscul Dis. 2021.8 (5)769-784 PMID:34120912
Hodgkinson, VL, Oskoui, M, Lounsberry, J, M'Dahoma, S, Butler, E, Campbell, C et al.. A National Spinal Muscular Atrophy Registry for Real-World Evidence. Can J Neurol Sci. 2020.47 (6)810-815 PMID:32493524
Prasad, M, Glueck, M, Ceballos-Saenz, D, Zapata-Aldana, E, Johnson, N, Campbell, C et al.. A Phenotypic Description of Congenital Myotonic Dystrophy using PhenoStacks. J Neuromuscul Dis. 2019.6 (3)341-347 PMID:31227653
Feichtinger, RG, Mucha, BE, Hengel, H, Orfi, Z, Makowski, C, Dort, J et al.. Biallelic variants in the transcription factor PAX7 are a new genetic cause of myopathy. Genet Med. 2019.21 (11)2521-2531 PMID:31092906
Lopes, F, Miguet, M, Mucha, BE, Gauthier, J, Saillour, V, Nguyen, CÉ et al.. MYOD1 involvement in myopathy. Eur J Neurol. 2018.25 (12)e123-e124 PMID:30403323
Remtulla, S, Emilie Nguyen, CT, Prasad, C, Campbell, C. Twinkle-Associated Mitochondrial DNA Depletion. Pediatr Neurol. 2019.90 61-65 PMID:30391088
Zapata-Aldana, E, Kim, DD, Remtulla, S, Prasad, C, Nguyen, CT, Campbell, C et al.. Further delineation of TBCK - Infantile hypotonia with psychomotor retardation and characteristic facies type 3. Eur J Med Genet. 2019.62 (4)273-277 PMID:30103036
Mercuri, E, Darras, BT, Chiriboga, CA, Day, JW, Campbell, C, Connolly, AM et al.. Nusinersen versus Sham Control in Later-Onset Spinal Muscular Atrophy. N Engl J Med. 2018.378 (7)625-635 PMID:29443664
Amburgey, K, Tsuchiya, E, de Chastonay, S, Glueck, M, Alverez, R, Nguyen, CT et al.. A natural history study of X-linked myotubular myopathy. Neurology. 2017.89 (13)1355-1364 PMID:28842446
Prasad, M, Hicks, R, MacKay, M, Nguyen, CT, Campbell, C. Developmental Milestones and Quality of Life Assessment in a Congenital Myotonic Dystrophy Cohort. J Neuromuscul Dis. 2016.3 (3)405-412 PMID:27854230
El-Aloul, B, Altamirano-Diaz, L, Zapata-Aldana, E, Rodrigues, R, Malvankar-Mehta, MS, Nguyen, CT et al.. Pharmacological therapy for the prevention and management of cardiomyopathy in Duchenne muscular dystrophy: A systematic review. Neuromuscul Disord. 2017.27 (1)4-14 PMID:27815032
Nguyen, CE, Campbell, C. Myotonic dystrophy type 1. CMAJ. 2016.188 (14)1033 PMID:27270116
Nguyen, CT, Faingold, R. Cavernous sinus thrombosis secondary to sinusitis: a rare and life-threatening complication. Pediatr Radiol. 2009.39 (6)633 PMID:19172257
See more on PubMed