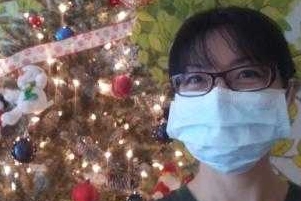 Working Group Member
Pediatric Neurologist, CHU Sainte-Justine, Université de Montréal
Medical Director of the Neuromuscular clinic, Marie Enfant Rehabilitation Centre of CHU Sainte-Justine | Neuromuscular and EMG fellowship director at CHU Sainte-Justine
NMD4C Working Group(s): Pillar 3: Clinical Practice Research and Education
Email Cam-Tu Émilie
Dr. Cam-Tu Émilie Nguyen is a pediatric neurologist specialized in neuromuscular disorders and neuromuscular and EMG fellowship director at CHU Sainte-Justine in Montreal. Dr. Nguyen is also the medical director of the Neuromuscular clinic at Marie Enfant Rehabilitation Centre of CHU Sainte-Justine. Dr. Nguyen completed a fellowship in EMG and neuromuscular disorders at McGill University, the London Health Sciences Centre under Dr. Craig Campbell's supervision, and The Hospital for Sick Children (SickKids).
Dr. Nguyen received an EMG Diploma from the Canadian Society of Clinical Neurophysiologists (CSCN), and was the recipient of the CSCN Fellowship in Neuromuscular Medicine & Electromyography in 2015.She is an early-career member of the NMD4C, and sits on the early-career working group.
Watch Dr. Nguyen's feature in Radio-Canada Découvert's 'Thérapie à 2,8 millions $' on the topic of Zolgensma and Spinal muscular atrophy in Quebec. This recording is available in French.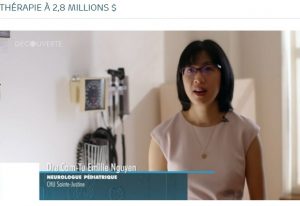 Recent Publications
Boudjani, H, Fadda, G, Dufort, G, Antel, J, Giacomini, P, Levesque-Roy, M et al.. Clinical course, imaging, and pathological features of 45 adult and pediatric cases of myelin oligodendrocyte glycoprotein antibody-associated disease. Mult Scler Relat Disord. 2023.76 104787 PMID:37320939
Yazdani, PA, St-Jean, ML, Matovic, S, Spahr, A, Tran, LT, Boucher, RM et al.. The Experience of Parents of Children With Genetically Determined Leukoencephalopathies With the Health Care System: A Qualitative Study. J Child Neurol. 2023.38 (5)329-335 PMID:37225698
Allen, NM, O'Rahelly, M, Eymard, B, Chouchane, M, Hahn, A, Kearns, G et al.. The emerging spectrum of fetal acetylcholine receptor antibody-related disorders (FARAD). Brain. 2023.146 (10)4233-4246 PMID:37186601
Derksen, A, Shih, HY, Forget, D, Darbelli, L, Tran, LT, Poitras, C et al.. Variants in LSM7 impair LSM complexes assembly, neurodevelopment in zebrafish and may be associated with an ultra-rare neurological disease. HGG Adv. 2021.2 (3)100034 PMID:35047835
Amir Yazdani, P, St-Jean, ML, Matovic, S, Spahr, A, Tran, LT, Boucher, RM et al.. Experience of Parents of Children with Genetically Determined Leukoencephalopathies Regarding the Adapted Health Care Services During the COVID-19 Pandemic. J Child Neurol. 2022.37 (4)237-245 PMID:34986037
Prasad, M, Glueck, M, Ceballos-Saenz, D, Zapata-Aldana, E, Johnson, N, Campbell, C et al.. A Phenotypic Description of Congenital Myotonic Dystrophy using PhenoStacks. J Neuromuscul Dis. 2019.6 (3)341-347 PMID:31227653
Feichtinger, RG, Mucha, BE, Hengel, H, Orfi, Z, Makowski, C, Dort, J et al.. Biallelic variants in the transcription factor PAX7 are a new genetic cause of myopathy. Genet Med. 2019.21 (11)2521-2531 PMID:31092906
Remtulla, S, Emilie Nguyen, CT, Prasad, C, Campbell, C. Twinkle-Associated Mitochondrial DNA Depletion. Pediatr Neurol. 2019.90 61-65 PMID:30391088
Mercuri, E, Darras, BT, Chiriboga, CA, Day, JW, Campbell, C, Connolly, AM et al.. Nusinersen versus Sham Control in Later-Onset Spinal Muscular Atrophy. N Engl J Med. 2018.378 (7)625-635 PMID:29443664
Nguyen, CE, Campbell, C. Myotonic dystrophy type 1. CMAJ. 2016.188 (14)1033 PMID:27270116
Ciarallo, A, Nguyen, CT, Stein, L. Interventional radiology: from idea to device to patient. Mcgill J Med. 2007.10 (2)144-8 PMID:18523536
See more on PubMed