Dr. Hebah Qashqari's Blog
About Dr. Qashqari
Dr. Qashqari completed her Bachelor in Medicine and Surgery followed by her Pediatric residency at King Abdul-Aziz University, Saudi Arabia. Following this, she successfully completed her Pediatric Neurology Residency Training at The Hospital for Sick Children and got certified as a Fellow by The Royal College of Physicians and Surgeons of Canada (FRCPC). After that, she finished her Pediatric Neuromuscular Fellowship at The Hospital for Sick Children, Toronto, Canada.
Dr. Qashqari's Blog
During my pediatric neurology residency training, I was able to dive into different subspecialties of neurology in great detail. I was drawn to the neuromuscular specialty by the significant ongoing advances in understanding the genetics of neuromuscular disorders and the growing number of novel therapeutic options in the field.
During my neuromuscular fellowship under the supervision of Drs. Gonorazky, Dowling and Vajsar, I had a lot of exposure to a variety of neuromuscular disorders in the pediatric and adult population. The training program enhanced the essential skills to master the neuromuscular specialty like electrophysiological studies, muscle pathology and muscle MRI reading as well as genetic testing interpretation and counselling.
I have been very fortunate to be trained at one of the best pediatric hospitals in the world with accomplished medical leaders, great role models and world experts in the field. I had the pleasure to see the advances in the field implemented in real life such as with the Nusinersen & Zolgensma administration, the initiation of a newborn screening for Spinal muscular atrophy (SMA) in Ontario followed by the first case of gene therapy administration for a pre-symptomatic SMA baby.
I have been honored with The Fellow Scholarship Award from The American Academy of Neurology (2020) for the described novel diagnostic approach of RNA Sequencing for the Diagnosis of Lissencephaly under the supervision of Dr. Dowling.
Currently, I work as a full-time staff clinician at King Faisal Specialist Hospital and Research Center- Jeddah (KFSHRC-J), Saudi Arabia. My interests include childhood neuromuscular disorders, neuromuscular genetics and novel therapies as well as medical education. In the future, I look forward to getting involved in ongoing opportunities for collaboration and networking to expand my practice and maximize the benefits of my patients.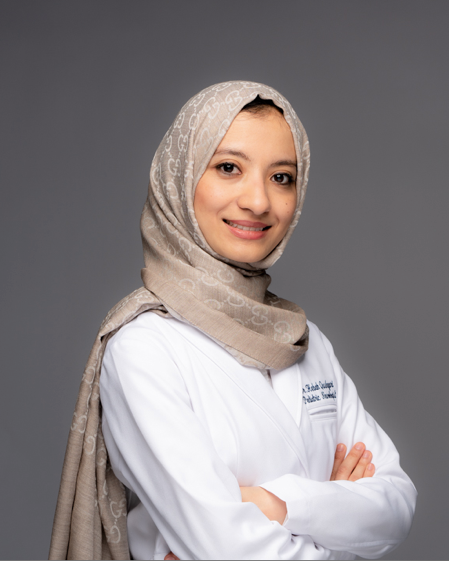 Qashqari, H, McNiven, V, Gonorazky, H, Mendoza-Londono, R, Hassan, A, Kulkarni, T et al.. PURA syndrome: neuromuscular junction manifestations with potential therapeutic implications. Neuromuscul Disord. 2022.32 (10)842-844 PMID:36210261
Qashqari, H, Ramani, A, Gonorazky, H, Amburgey, K, Ghahramani Seno, MM, Brudno, M et al.. Child Neurology: RNA Sequencing for the Diagnosis of Lissencephaly. Neurology. 2021.97 (12)e1253-6 PMID:34016710
Qashqari, H, Bhathal, I, Pulcine, E, Muthusami, P, Moharir, M, MacGregor, D et al.. Bow hunter syndrome: A rare yet important etiology of posterior circulation stroke. J Clin Neurosci. 2020.78 418-419 PMID:32522486
See more on PubMed