Dr. Mo Zhao completed her PhD in Molecular Genetics (2013-2017) in Dr. Robert Bryson-Richardson's lab at Monash University (Melbourne, Australia). Her PhD project involved the use of zebrafish and high-resolution microscopic techniques to study sarcomeric M-bands. In 2017, she joined Dr. James Dowling's lab as a postdoctoral research fellow in the Department of Genetics & Genomic Biology at the Hospital for Sick Children in Toronto, Canada. She is currently working on zebrafish models of centronuclear myopathy with the aim of identifying therapeutic targets for pre/clinical trials.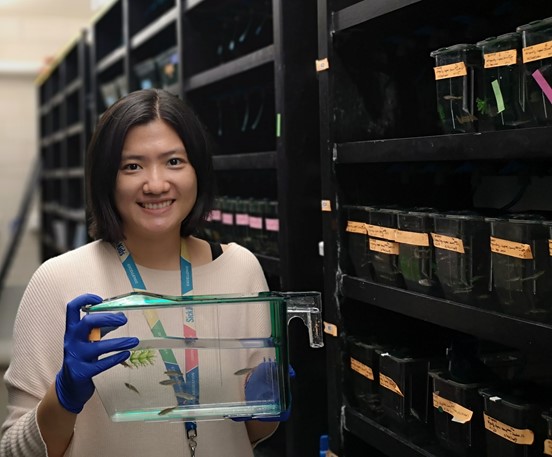 I became interested in muscle biology during undergrad, and I am still amazed and excited by how one simple function like muscle contraction can involve such genetic and cellular complexity. After graduation, I knew I wanted to work in research, but wasn't ready to go as far as doing a PhD. So I worked as a research assistant / lab manager for a couple of years. During that period, I learnt a lot about how labs are run, and luckily was involved in various muscle projects which made me extremely curious about the scientific discovery process. So I went on to do a PhD in Dr. Robert Bryson-Richardson's lab, combining muscle biology and my favorite animal model, zebrafish. During my PhD, I developed research skills extensively in molecular genetics and zebrafish (thanks Rob!).  After my PhD, I wanted to apply those skills in more translational research, so I joined Dr. James Dowling's lab at SickKids, and since have been using zebrafish as a model to study NMD.
My postdoc experience has been great – thanks to a new research environment, I'm learning new things every day. The direct clinical connection through Jim has been the best - it assures me that the research questions I study are answering the needs of the NMD community. The various animal models used in the Dowling lab has helped me better evaluate the advantages and disadvantages of fish as a disease model for NMD, and opened my eyes to new technologies. I also appreciate how Jim and other leaders in the field fully embrace new technologies and bold research ideas – that's research at its most fun. One personal challenge is that I'm still getting to know the drug discovery pipeline better – for example, what happens next after scientists discover potential drug targets, what sorts of resources, efforts, and setbacks are involved before the drugs/therapies reach the public. Although these questions are not necessarily biological, I think knowing these downstream processes is very important to biologists in the pipeline, as it will allow us to better design and characterize animal models in order to improve overall efficiency. The recent development of COVID-19 vaccines has provided interesting insights into the downstream processes involved, while established social platforms that promote networking between scientists and clinicians (e.g. NMD4C itself), and initiating discussions on translational efficiency (e.g. World Muscle Society conference in 2020) have been invaluable learning resources.
I am currently studying centronuclear myopathy (CNM), a congenital myopathy that has no treatment. CNM can be caused by autosomal dominant mutations in DNM2. Our lab recently generated the first zebrafish models stably expressing human wildtype or mutant DNM2. The mutant DNM2 fish carrying a severe CNM mutation (S619L) recapitulate patient muscle phenotypes, including structural disruption at the triads (the primary site for excitation-contraction coupling), and significantly impaired muscle performance. We are grateful for receiving research funds from ZNM-Zusammen Stark! E.V., a self-help association set up and run by affected families. This funding will allow us to screen ~1,400 FDA-approved compounds using the mutant fish and a high-throughput swimming assay. We aim to discover drug hits that can improve muscle performance in the mutant fish, with the hope to repurpose the hits for future pre/clinical trials.