CPD-Accredited Webinar | All you Need to Know About CMT – Clinical Updates
January 5 @ 17:00

-

18:30

EST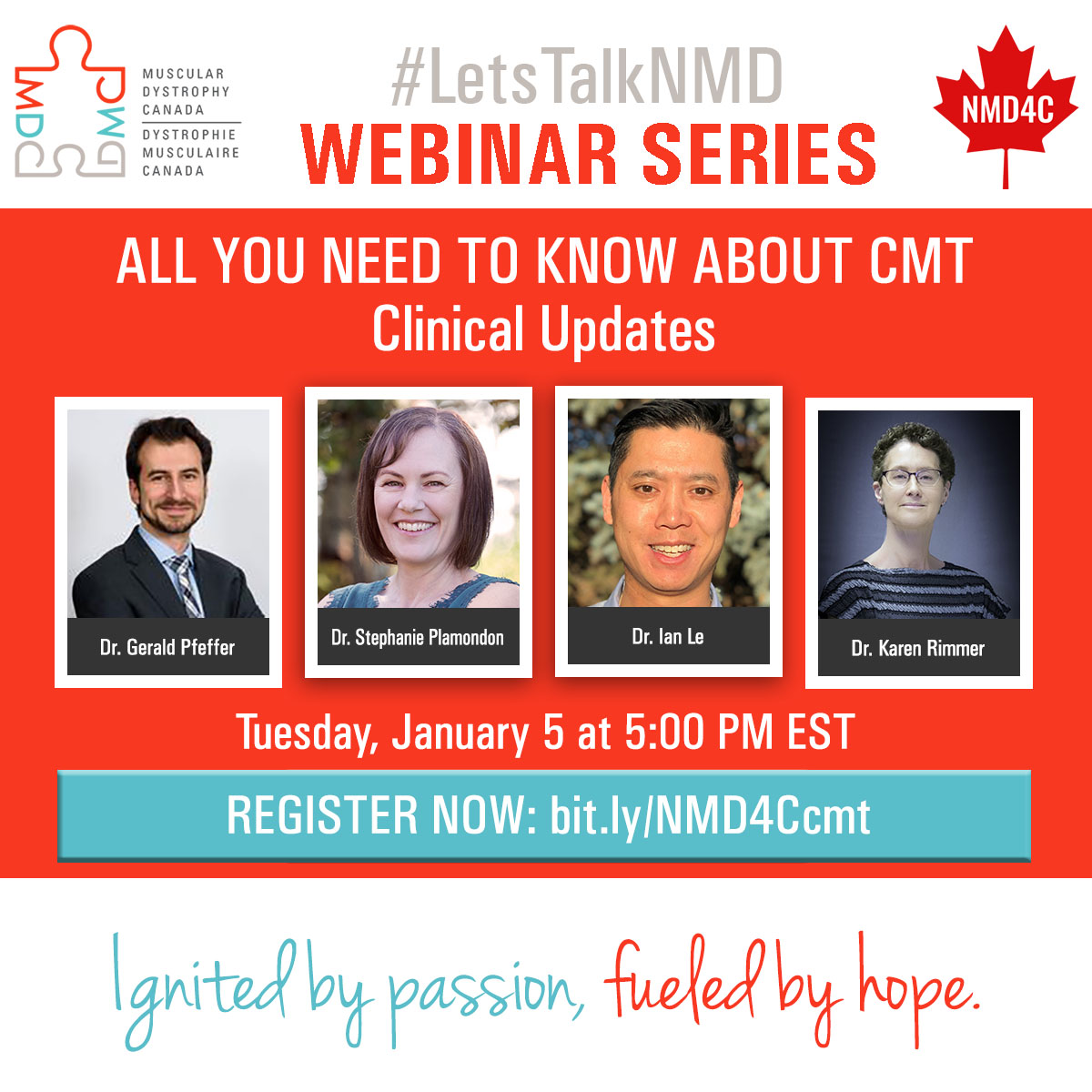 Muscular Dystrophy Canada (MDC) and the Neuromuscular Disease Network for Canada (NMD4C) are pleased to invite you to a webinar on CMT clinical updates.
This webinar is primarily targeted at Canadian clinicians, academics and trainees with an interest in neuromuscular disease.
NMD4C and MDC are providing organizational and technical support, and this is an independent clinical/academic webinar with no industry sponsorship.
The NMD Rounds & Educational Webinars is a self-approved group learning activity (Section 1) as defined by the Maintenance of Certification Program of the Royal College of Physicians and Surgeons of Canada.
AGENDA:
An update on genetics and diagnosis of CMT: Dr. Gerald Pfeffer
Rehabilitation Strategies in CMT Disease: Dr. Stephanie Plamondon
CMT and respiratory concerns: Dr. Karen Rimmer
Surgical management CMT: One Step Back, Two Steps Forward: Dr. Ian Le
LEARNING OBJECTIVES:
At the end of the presentation, the attendees will be able to identify/understand:
1) The clinical features, diagnosis and common genetic subtypes of Charcot-Marie-Tooth disease (CMT) or hereditary sensorimotor neuropathy
2) Four rehabilitation strategies to treat common CMT symptoms and maintain functional independence.
3) Respiratory system effects of CMT and its management.
4) The current evidence and surgical treatment for CMT foot deformity.