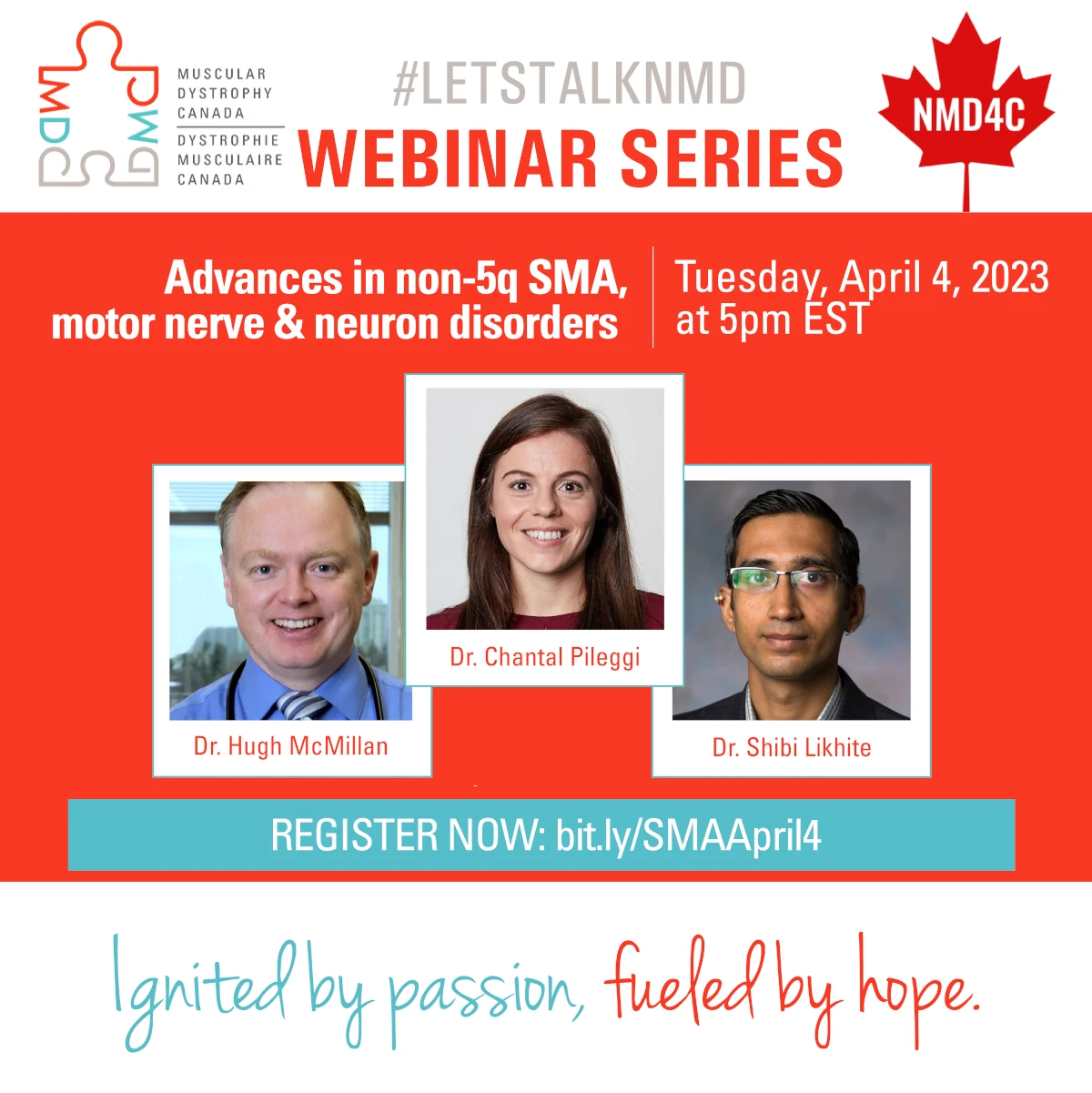 Date
Apr 04 2023
Expired!
CPD-Accredited Webinar | Advances in non-5q SMA, Motor Nerve and Neuron Disorders
The Neuromuscular Disease Network for Canada (NMD4C) together with Muscular Dystrophy Canada (MDC) are pleased to invite you to a webinar on advances in non-5q SMA, motor nerve and neuron disorders.
This webinar is primarily targeted at Canadian clinicians, academics, and trainees with an interest in neuromuscular disease. NMD4C and MDC are providing organizational and technical support. This is an independent clinical/academic webinar.
Chair:
Dr. Hugh McMillan, Professor, Department of Pediatrics, University of Ottawa and Pediatric Neurologist and Neuromuscular specialist at the Children's Hospital of Eastern Ontario
Agenda:
COQ7: a newly identified cause of motor neuropathy
Dr. Hugh McMillan
Dr. Chantal Pileggi, Post-Doctoral Research Fellow at uOttawa
Translating Gene Therapy from Benchside to Bedside for SMARD1/CMT2S
Dr. Shibi Likhite, Research Scientist at Nationwide Children's Hospital
Learning objectives:
Discuss the increasing number of genes linked with motor neuron and motor nerve disorders
Review COQ7 as a newly identified cause of motor neuropathy
Understand the steps from preclinical research to a clinical trial initiation for IGHMBP2-related disorders
If you have any questions, please email
The NMD Rounds & Educational Webinars is a self-approved group learning activity (Section 1) as defined by the Maintenance of Certification Program of the Royal College of Physicians and Surgeons of Canada.