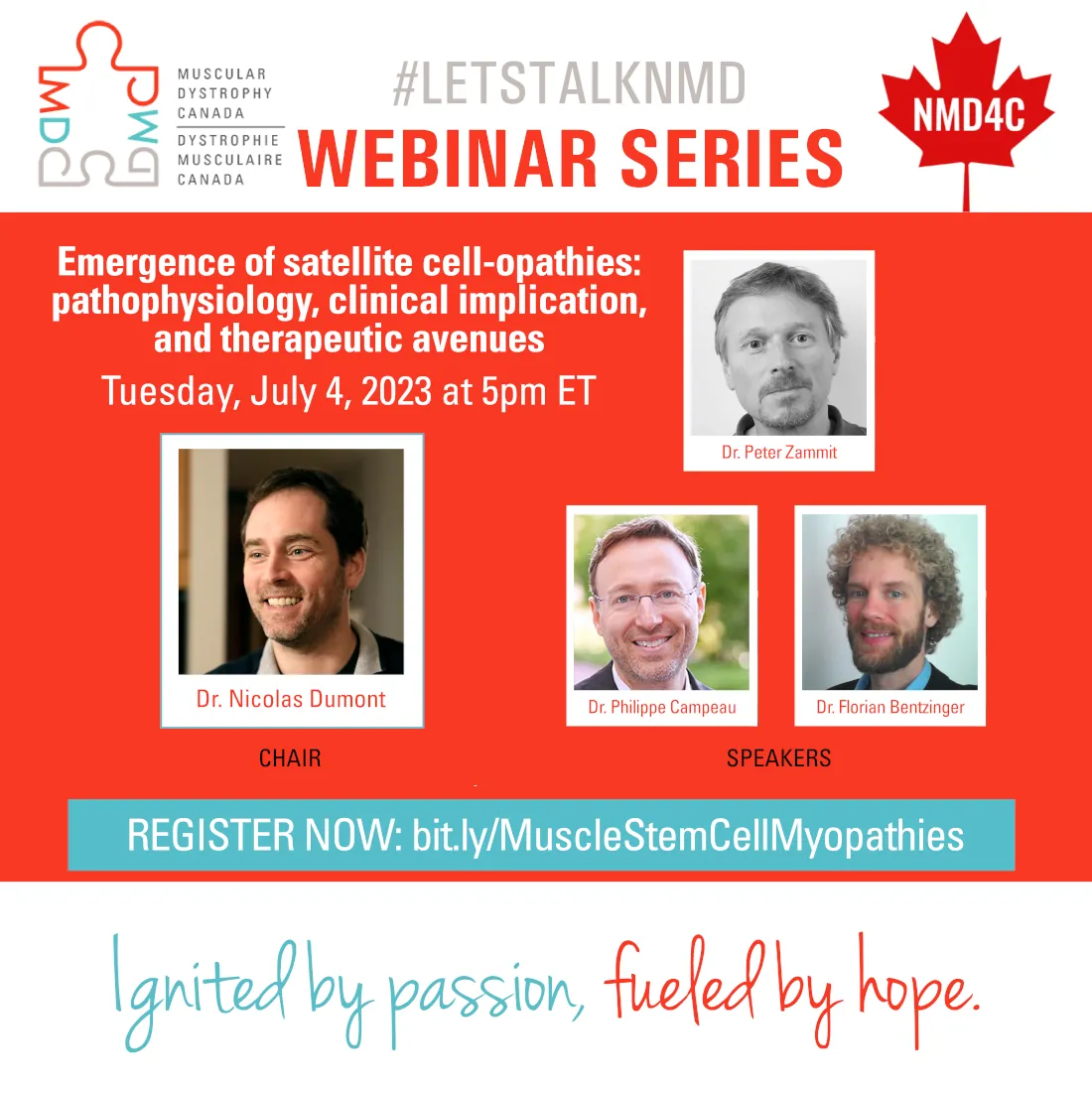 Date
Jul 04 2023
Expired!
CPD-Accredited Webinar | Emergence of satellite cell-opathies: pathophysiology, clinical implication, and therapeutic avenues
The NMD4C together with Muscular Dystrophy Canada (MDC) are pleased to invite you to a webinar on updates in muscle stem cell myopathies. This webinar is primarily targeted at Canadian clinicians, academics, and trainees with an interest in neuromuscular disease.
Chair
Dr Nicolas Dumont, CHU Sainte-Justine
Speakers and Agenda
Dr Peter Zammit, King's College London: Defining and identifying satellite cell-opathies
Dr Philippe Campeau, Université de Montréal: Clinical and genetic features of muscle stem cell myopathies
Dr Florian Bentzinger, Université de Sherbrooke: Treating muscular dystrophy by stimulating intrinsic repair
Learning Objectives
1) Discuss the increasing number of genes linked with muscle stem cell defects in myopathies
2) Understand the pathophysiology of satellite cell-opathies (muscle stem cell myopathies)
3) Explore the clinical phenotype associated with satellite cell-opathies (muscle stem cell myopathies)
4) Discuss the therapeutic avenues targeting defective muscle stem cells in myopathies.
NMD4C and MDC are providing organizational and technical support. There is no involvement and influence from industry.
The NMD Rounds & Educational Webinars is a self-approved group learning activity (Section 1) as defined by the Maintenance of Certification Program of the Royal College of Physicians and Surgeons of Canada.