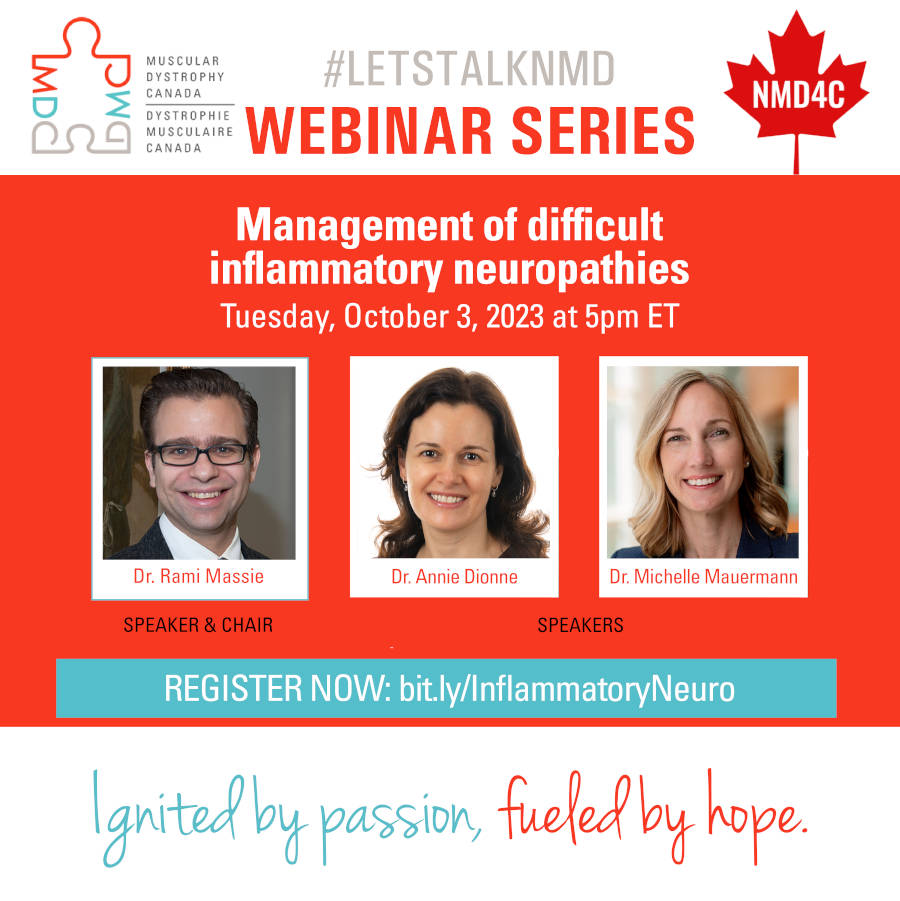 CPD-Accredited Webinar | Management of difficult inflammatory neuropathies
NMD4C together with Muscular Dystrophy Canada (MDC) are pleased to invite you to a webinar on Management of difficult inflammatory neuropathies. This webinar is primarily targeted at Canadian clinicians, academics, and trainees with an interest in neuromuscular disease.
Chair:
Dr Rami Massie, Montreal Neurological Institute
Speakers & Agenda:
Management of refractory CIDP
Dr Annie Dionne, CHU de Québec
Management on MGUS associated neuropathies
Dr Michelle Mauermann, Mayo Clinic Rochester
Learning Objectives
1) Review therapeutic options in refractory CIDP and their efficacy
2) Guide management of neuropathies associated with Monoclonal gammopathies
3) Discuss when and how to treat MGUS-associated neuropathies, with or without MAG antibodies
NMD4C and MDC are providing organizational and technical support. This is an independent clinical/academic webinar with no industry sponsorship or influence.
The NMD Rounds & Educational Webinars is a self-approved group learning activity (Section 1) as defined by the Maintenance of Certification Program of the Royal College of Physicians and Surgeons of Canada.
If you have any questions, please email