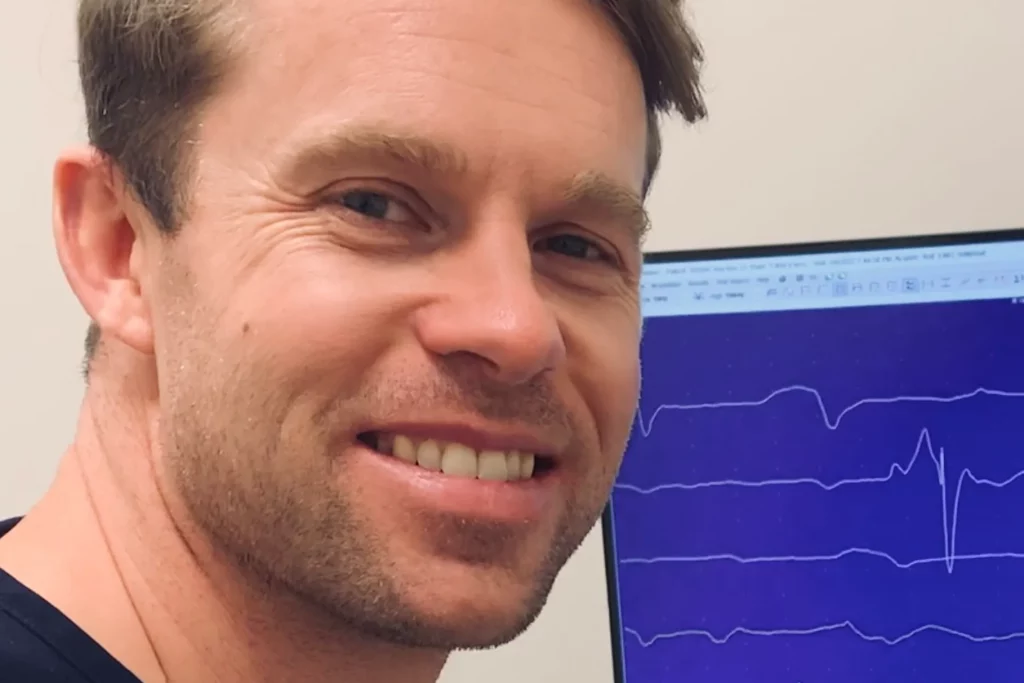 Dr. Gordon Jewett studied software engineering before completing his medical school at the University of Calgary in 2016. He became a Fellow of the Royal College of Physicians of Canada in 2021 after completing his adult neurology residency in Calgary. As a resident he was inspired by the complexity of the peripheral nervous system and the challenges in diagnosis and treatment of neuromuscular disease.
He is currently completing a 2-year clinical and research fellowship in neuromuscular neurology with the strong clinical group at the University of Calgary. His research work will include completion of a master of neuroscience supervised by Dr. Lawrence Korngut and Dr. Joon Lee. His thesis is focused on development of novel disease biomarkers in amyotrophic lateral sclerosis (ALS), based on wearable sensors and machine learning. His research is generously funded by ALS Canada and the Canadian Institutes of Health Research (CIHR).
At every opportunity he escapes the city to explore the Rocky Mountains by ski, foot or bike with his two young daughters and partner.
Recent Publications
Hodgkinson V, Lounsberry J, M'Dahoma S, Russell A, Jewett GAE, et al. The Canadian Neuromuscular Disease Registry 2010–2019: A Decade of Facilitating Clinical Research Through a Nationwide, Pan-Neuromuscular Disease Registry. Journal of Neuromuscular Diseases. 2021; 8(1):53–61. PMID: 32925088
Jewett, G, Beland, B, Khayambashi, S, Silverstein, S, Donkervoort, S, Bönnemann, CG et al.. Recessive pathogenic GMPPB Variants Cause a Childhood Onset Myasthenic Syndrome Responsive to Pyridostigmine. Can J Neurol Sci. 2023. 1-9 PMID:37681231
Perera, T, Khayambashi, S, Jewett, G, Hahn, C, McCulloch, S, Joseph, JT et al.. Plasmapheresis for Treatment of Light Chain Amyloidosis Related Myopathy. Can J Neurol Sci. 2023. 1-3 PMID:37009747
Ganesh, A, Beland, B, Jewett, GAE, Campbell, DJT, Varma, M, Singh, RJ et al.. Physician Approaches to Antithrombotic Therapies for Recently Symptomatic Carotid Stenosis. Can J Neurol Sci. 2023. 1-10 PMID:36803592
Jewett, G, Khayambashi, S, Frost, GS, Beland, B, Lee, A, Hodgkinson, V et al.. Diagnostic criteria in amyotrophic lateral sclerosis: Time for a change. Muscle Nerve. 2022.66 (6)E34-E35 PMID:36116127
Jewett, G, Khayambashi, S, Frost, GS, Beland, B, Lee, A, Hodgkinson, V et al.. Gold Coast criteria expand clinical trial eligibility in amyotrophic lateral sclerosis. Muscle Nerve. 2022.66 (4)397-403 PMID:35673968
Roberts, JI, Jewett, GAE, Tellier, R, Couillard, P, Peters, S. Twice Negative PCR in a Patient With Herpes Simplex Virus Type 1 (HSV-1) Encephalitis. Neurohospitalist. 2021.11 (1)66-70 PMID:33868561
Krett, JD, Jewett, GAE, Elton-Lacasse, C, Fonseca, K, Hahn, C, Au, S et al.. Hemorrhagic encephalopathy associated with COVID-19. J Neuroimmunol. 2020.346 577326 PMID:32683185
Jewett, GA, Lindsay, MP, Goia, C, Zagorski, B, Kamal, N, Kapral, MK et al.. National trends in hospital admission, case fatality, and sex differences in atrial fibrillation-related strokes. Int J Stroke. 2020.15 (5)521-527 PMID:31594534
Dhaliwal, P, Yavin, D, Whittaker, T, Hawboldt, GS, Jewett, GAE, Casha, S et al.. Intrathecal Morphine Following Lumbar Fusion: A Randomized, Placebo-Controlled Trial. Neurosurgery. 2019.85 (2)189-198 PMID:30265333
Jewett, GAE, Yavin, D, Dhaliwal, P, Whittaker, T, Krupa, J, Du Plessis, S et al.. Oblique Intrathecal Injection in Lumbar Spine Surgery: A Technical Note. Can J Neurol Sci. 2017.44 (5)514-517 PMID:28478791
See more on PubMed