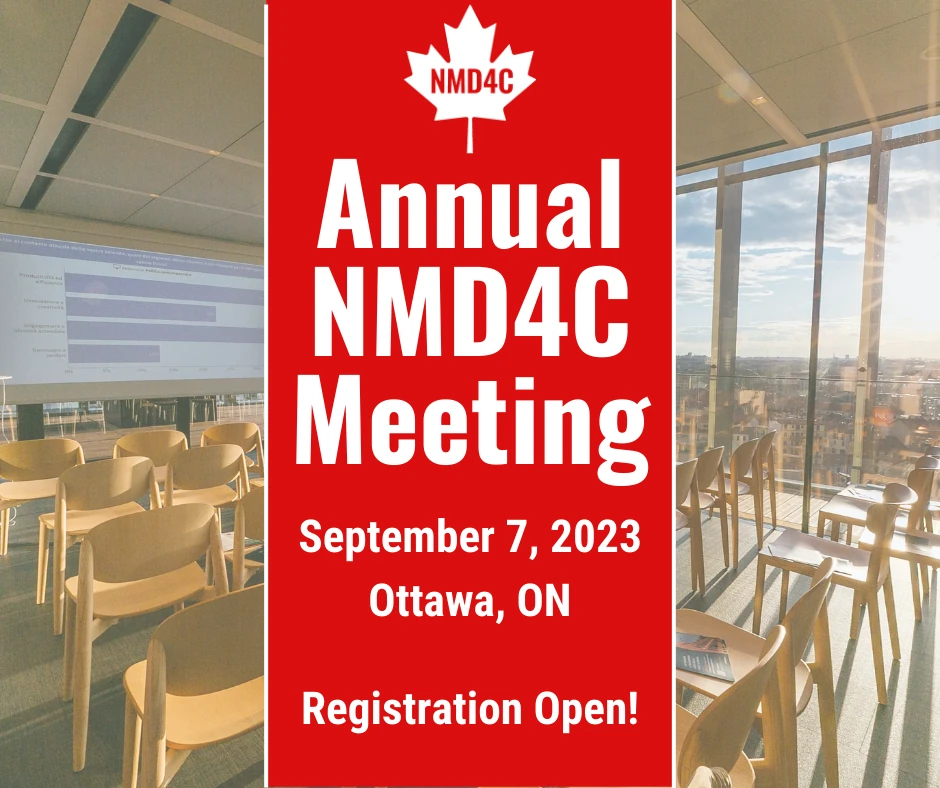 Date
Sep 07 2023
Expired!
Annual NMD4C Meeting
Registration is now open for our annual NMD4C meeting in-person in Ottawa on September 7th, 2023. This is a one-day, in-person meeting for network researchers, clinicians, and trainees. The meeting will be an opportunity to share your input on the NMD4C's future activities, discuss emerging topics in NMDs, recognize NMD4C early-career awardees and funding recipients, and network with Canadian neuromuscular clinicians and researchers.
Venue
The Annual NMD4C Meeting will be held at the University of Ottawa's Desmarais Building (5 Laurier Ave E, Ottawa, ON K1N 6N5) in room 12102 on the 12th floor. This "Penthouse of the Campus" overlooks the Rideau Canal and provides a view of the capital's landmarks.
The Annual NMD4C Meeting will run from 8:30am ET to 4:15pm ET.
Ottawa NMD 2023 taking place immediately after our meeting
Our meeting will take place during the day before the Ottawa International Conference on Neuromuscular Disease and Biology, with the conference's opening remarks, keynote address and welcome reception taking place in the evening after our meeting's close. It is a short walk from the University of Ottawa campus to the Ottawa NMD 2023 venue at the Westin hotel, providing a fantastic opportunity to attend both events!
For more information about our Annual Meeting, please contact network manager Erin Beattie at <>