MDC's burden of illness study
La française suit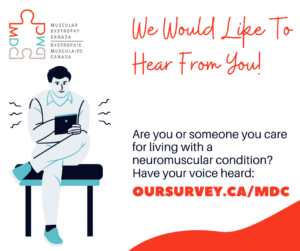 If you have a neuromuscular disorder or care for someone who does, we need your help! You are invited to participate in a questionnaire on the costs of living with a neuromuscular disorder and the impact of neuromuscular disorders on everyday life.
This is a research project being conducted by Muscular Dystrophy Canada. The purpose of this study is to better understand the impact of neuromuscular disorders on individuals and their caregivers in Canada, which can help to inform future programs, services and policies.
If you live in Canada and:
–   Are 17 years and older and live with a neuromuscular condition OR
–   A parent of a child (age 2–16 years) with a neuromuscular condition OR
–   A family member/caregiver to someone living with a neuromuscular disorder (age 0+)
The survey should take approximately one hour to complete. If necessary, you can save and return to the survey at any time.
You can complete the questionnaire online at 

oursurvey.ca/MDC
You can also email  or call 1 800 567-2873 ext. 9037 to schedule a time to complete the questionnaire by phone.
---
Si vous avez une maladie neuromusculaire ou si vous vous occupez d'une personne qui en est atteinte, nous avons besoin de vous! Nous vous invitons à répondre à un questionnaire sur les coûts qu'implique le fait de vivre avec une maladie neuromusculaire et l'impact de ces maladies sur la vie quotidienne.
Ce projet de recherche est une initiative de Dystrophie musculaire Canada et vise à mieux comprendre l'impact des maladies neuromusculaires sur les personnes et leurs proches aidants au Canada. Cette étude nous aidera à effectuer des changements positifs et guidera nos futurs programmes, services et politiques.
Si vous vivez au Canada et :
– Que vous avez 17 ans ou plus et avez une maladie neuromusculaire OU
– Que vous êtes parent d'un enfant de 2 à 16 ans atteint d'une maladie neuromusculaire OU
– Que vous êtes un proche ou une proche aidante d'une personne atteinte d'une maladie neuromusculaire
Répondre à ce questionnaire devrait vous prendre environ une heure. Au besoin, vous pouvez en tout temps sauvegarder vos réponses et compléter le sondage plus tard.
Vous pouvez répondre à notre questionnaire en ligne oursurvey.ca/MDC 
Vous pouvez aussi répondre à ce sondage par téléphone en prenant d'abord rendez-vous, soit par courriel à , soit par téléphone au 1 800 567-2873, poste 9037.