Virtual Early Career Forum – Path to Success!
February 23 @ 17:00

-

19:00

EST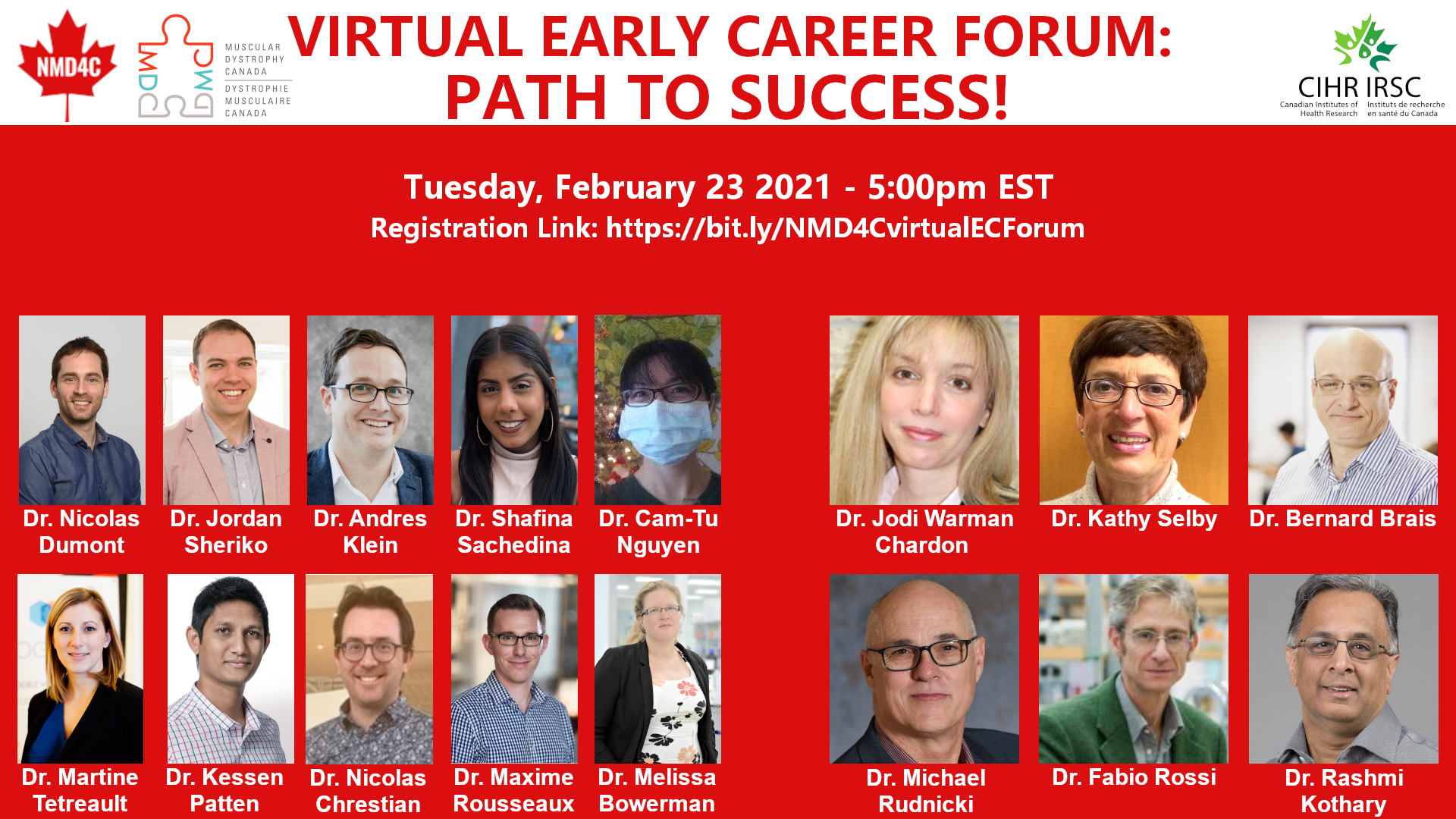 Muscular Dystrophy Canada (MDC) and the Neuromuscular Disease Network for Canada (NMD4C) are pleased to invite you to our first Early Career forum: Path to Success!
The virtual early-career forum is an opportunity for early-career members to exchange ideas, discuss research, and to network with their peers, mid-career and senior investigators.
We invite you to join us, where ten early-career members will deliver 3-minute TED-style talks revealing what they are doing and what they feel has made them successful.  Six mid-career and senior investigators will also give 8-minute talks describing their path, tips to success, the challenges that they've encountered along the way and how they overcame them, and answer questions.
---
Early Career Presenters:
Dr. Andres Klein, MD
Dr. Cam-Tu Nguyen, MD, FRCPC
Dr. Jordan Sheriko, MD, FRCPC
Dr. Kessen Patten, PhD
Dr. Martine Tetreault, PhD
Dr. Maxime Rousseaux, PhD
Dr. Melissa Bowerman, PhD
Dr. Nicolas Chrestian, MD, FRCPC
Dr. Nicolas Dumont, PT, PhD
Dr. Shafina Sachedina, MD, FRCPC
Mid-Career/Senior Investigators:
Dr. Jodi Warman Chardon, MD, MSc, FRCPC
Dr. Rashmi Kothary, PhD
Dr. Bernard Brais, MDCM, MPhil, PhD, FRCPC
Dr. Kathy Selby, FRCPC, MRCP, MBBCH
Dr. Michael Rudnicki, OC, PhD, FRS, FRSC
Dr. Fabio Rossi, MD, PhD
---
This webinar is primarily targeted at Canadian researchers, clinicians and trainees with an interest in neuromuscular disease.NMD4C and MDC are providing organisational and technical support, and this is an independent clinical/academic webinar with no industry sponsorship.